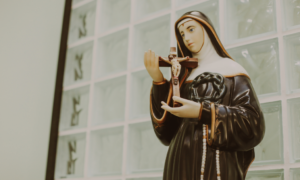 Who are the Saints we invoke for fertility? Are there saints for wanna- be mothers and couples trying to conceive? What are prayers we can say right now?
I have gathered here the patron saints for those of you desperately seeking help with conceiving. Here are a brief story of their miraculous interventions and prayers for invocation.
Saint Gianna Baretta Molla
Saint Gianna Baretta Molla is a Catholic Saint. 
She is a Patroness for infertility, fertility, pregnant women and mothers. 
She is frequently pictured holding one of her children.
She is attributed to a miracle of a woman in Brazil with a complicated pregnancy due to a serious hemorrhage. At 16 weeks the baby was living, but there was no amniotic fluid. She was advised to terminate the pregnancy to avoid the risk of infection to mother and child. As a practicing Catholic, Elizabeth did not choose abortion. Isabel her friend and the Bishop who was passing by prayed for her and told her to do what Blessed Gianna did, to give her life to her child. Elizabeth's community invoke Blessed Gianna for a miracle. At 32 weeks, Gianna Maria was born weighing 1.8 kg., and was healthy. Elizabeth, despite having life-threatening complications, made a full recovery.  
St. Margaret of Antioch is the Patroness saint of pregnant women and childbirth, prayed to by couples trying to conceive.
Her martyrdom is a remarkable story when I read it. 
St. Margaret was a child of a pagan priest who was nursed by a Christian woman. She embraced Christiantity and vowed virginity to God.
Because of her beauty, Olybrius, Governor of the Roman Diocese asked her to  marry him and renounce her Christiantiy. She refused and was tortured in a cauldron of boiling water, bound hand and foot. She prayed and her bounds were broken and she stood uninjured.
St. Colette of Corbie is the patroness saint of women seeking to conceive, expectant mothers and sick children.
St. Colette's  parents were childless and  prayed to St. Nicholas and their prayers were granted. Her mother Marguerite gave birth to Nicole(St. Colette's birth name) when she was 60 years old.
That is a miracle in itself.
St. Colette was known for this particular miracle:
The story is about a peasant woman who gave birth to a stillborn child. The child's father took the child to their Parish Priest for Baptism out of fear for the child's soul. The Priest would not baptize the child because he was already dead, and told the father to bring the body to the Nuns. St Colette wrapped the baby in the Veil given to her by the Pope and told the father to return the child to the Priest. When he arrived at the Parish church, the child was crying and was alive. 
The child was immediately baptized by the Priest.
St. Rita of Cascia is the Patroness saint of Infertility and Hopeless Causes, difficult marriages and parenthood. 
She was a wife, mother and later became a widow and a nun. 
She was forced to marry when she was 12 years old. 
Through her love and prayers, she won the grace of conversion for her husband and both of her sons before they died. 
She entered the Augustinian religious community. She was known for her austerity, prayerfulness and charity.
HERE IS AN ORIGINAL PRAYER TO ST. RITA FOR HEALING FROM INFERTILITY & A MIRACLE CHILD, BY ANNA RAPP
Saint Rita, you are my advocate and my protectress.
Saint Rita, you are beloved by the Lord and given special graces from heaven.
Saint Rita, you help those who are in need.
Hear my desire now to be healed of infertility.
Intercede on my behalf to the Lord that I may be blessed with perfect and miraculous fertility.
Know my deep desire to conceive and birth a healthy child who will live a long, happy, and healthy life.
Advocate for me, that heaven might hear and grant my desire to lovingly welcome a miracle child into my family.
As I wait for this intercession, help me to be patient in my suffering as you were.
Help me to be consumed with Divine Love as you were.
Help me to persevere in prayer as you did.
Through your intercession, and the love of Jesus Christ, I pray.
Amen.
HERE IS ANOTHER PRAYER TO SAINT COLETTE, MIRACLE CHILD, AND DAUGHTER OF THE CHURCH.
You spent your life in love and dedication to the Cross.
You were a miracle worker in life, and you are a miracle worker in heaven.
You know my desire to conceive a healthy baby and deliver them successfully so that they may have a long and happy life.
Please intercede on my behalf to Jesus Christ. Please help me to conceive a miracle baby and have a blessed pregnancy and delivery.
And, with the grace of God, please be with me to grant me dedication. I need to remain constant and unswerving in my faith while I wait patiently to meet my baby.
Amen.
My heartfelt prayers are with all of you my dear friends. May the blessings of the 
Almighty be with you.