Earn together with Collabs
Your future customers are on someone else's email list. Bundle subscription offerings. Cross-promote. Share revenue. Grow together.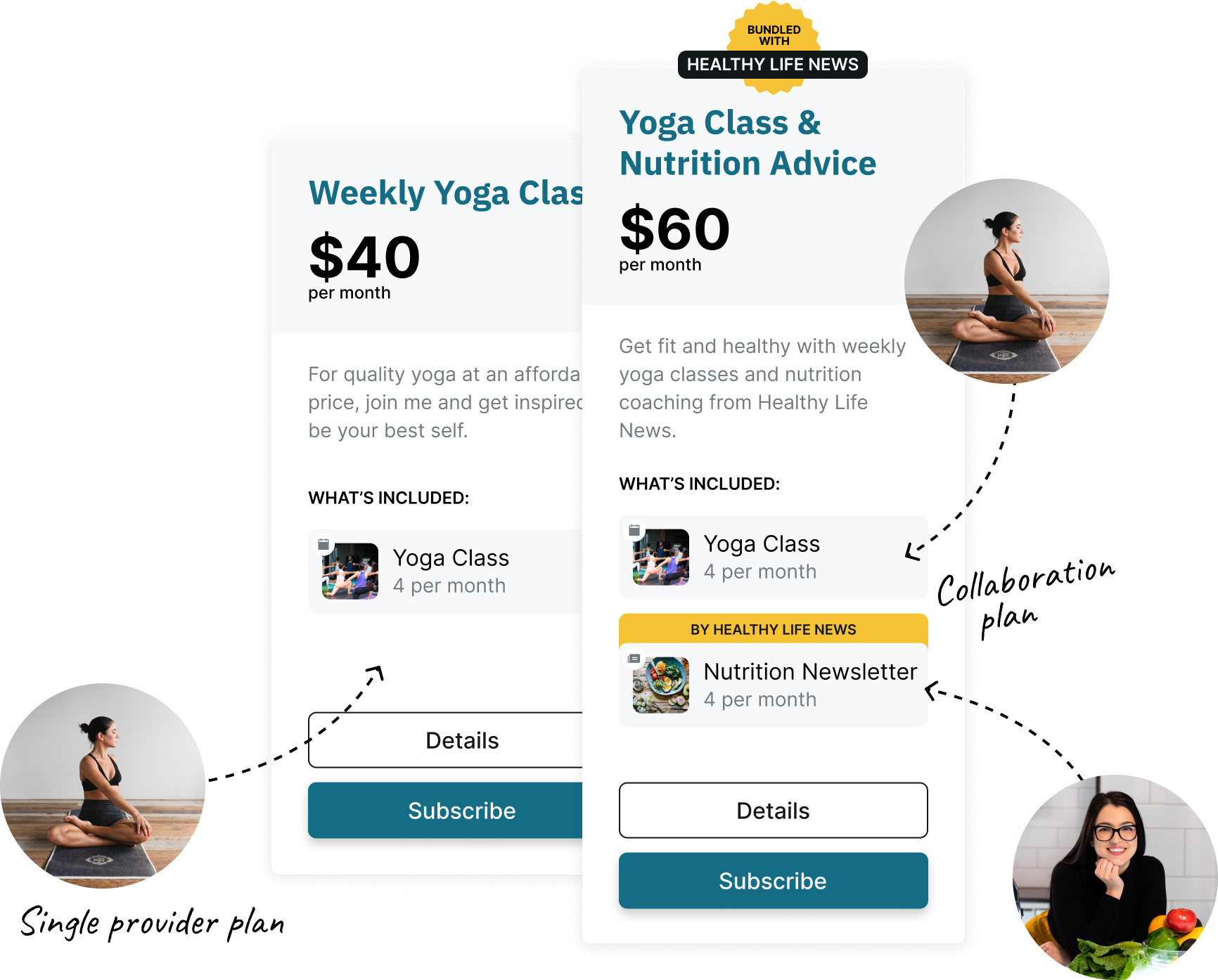 Achieve networked growth through bundling and cross-promotion


Add your offering to Subkit as a digital, physical, or session subscription product. Bundle it with other businesses to increase your reach to their audiences. Share revenue from combined subscribers.
Turn your product, expertise, or service into predictable recurring revenue


Start a subscription offering in minutes. Get a hosted high-SEO profile page built for conversion and an out-of-the-box membership hub for your subscribers. All designed to help you grow recurring revenue organically.
Turn your email list and social media followers into paying subscribers


Our step-by-step process will help you get to know your potential subscribers, figure out exactly what they want (and what they're willing to pay for it), and build a 'must have' subscription plan they'll never cancel.
Collabs: An easier path to high growth
You can bundle your subscription products (physical, digital, or sessions) with other businesses already on Subkit or invite other businesses. From there, cross-promote and share revenue.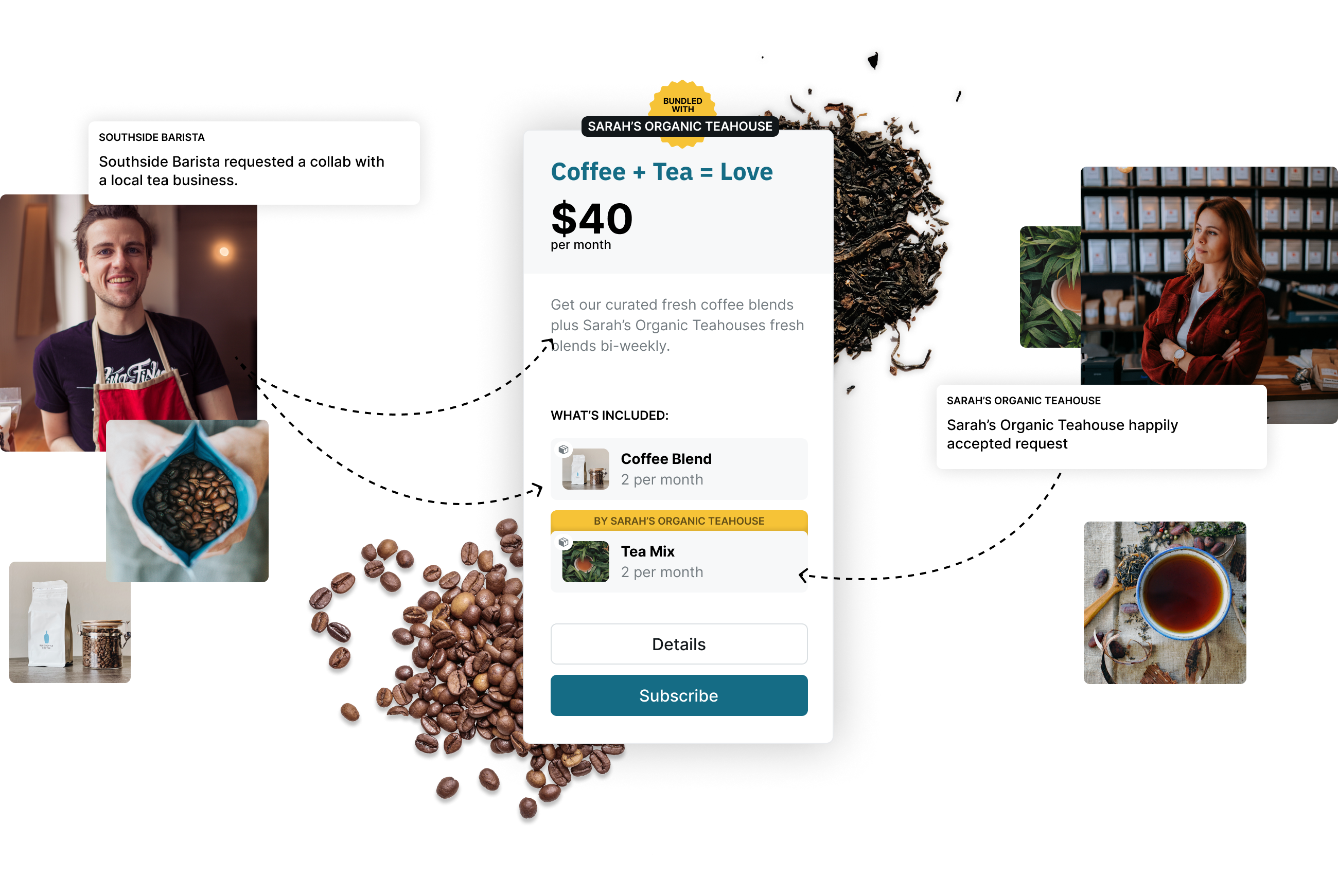 The marketing tools you need for organic growth
Whether you're a consultant, coach, chef, or a maker of homemade jams, we have you covered with tools that will help you build awareness, connect to your customers, and accelerate revenue growth.
SUBSCRIPTION PRODUCTS
Offer physical products, paid newsletters, video/audio library, and sessions.
BUNDLING & REVENUE SHARING
Bundle subscription products with other businesses to cross-promote, gain more subscribers, and share revenue.
SESSIONS & ACTIVITIES
Schedule in-person or virtual sessions with groups or 1-1, paid or free.
SUBSCRIPTION PLANS
Create subscription plans with flexible billing cycles, itemized features, and free trials.
REFERRAL PROGRAMS
Set up subscription model specific, ongoing, two-sided referral programs for viral growth.
COUPONS
Create one-time or ongoing discount coupons for your founding members and other special customers.
EMAIL CAMPAIGNS
Upload your email list and send your subscriber-only digital content + promotional messages via high open rate email campaigns.
WAITLISTS
Pre-launch your plans with waitlists and a pricing survey to build buzz, gauge demand and determine a winning price.
TESTIMONIALS
What our customers say
"Subkit has been transformative for my business and my personal growth. I had been looking for a subscription business model for 30 years and it wasn't until the team at Subkit reached out to me that I saw the possibilities. Since implementing my new subscription model I have finally been able to achieve that elusive goal of making money while I sleep instead of waking up each day and re-inventing the wheel to generate new revenue."
"Ever since I started my Subkit, I have felt a new value in my work and a renewed commitment to helping people from all over the world with their surfing practices. The platform is intuitive, straightforward, and has enough built-in flexibility to infinitely tweak and refine one's profile and products. The back-end team is incredibly supportive of technical issues and advice on how best to package and market one's skills. Couldn't be more stoked to grow my brand using this platform. "
"Subkit has completely taken the guess work and tech difficulties out of a subscription membership. The platform is very easy to use and the team is extremely accessible and so helpful in solving any questions. A true bonus is their expertise is SEO, marketing and best practice for creating and managing a successful subscription service and they are adding improvements monthly."
STEP 1
Sign up and create your business
Easy peasy. Sign up with your email address and business name, choose a URL and upload your logo.
STEP 2
Add a product or service you want to sell
Simply add product details and an image.

Choose between:
Physical Products
Offer local or shipped goods.
Examples: Curated Packages, Coffee, Bread, Chocolate, Honey, Pet Food, etc.
Content Products
Deliver multi-media content to subscribers' inboxes.
Examples: Newsletters, Video/Audio Library, Podcasts, Tutorials, and Articles.
Session Products
Host in-person or online group meetings, 1-on-1 sessions or provide scheduled services.
Examples: Fitness/Wellness Classes, Coaching, Meetups, Professional Education, Masterminds, Scheduled In-Person Services.
STEP 3
Create a subscription plan
Choose a name and description, attach products, and set price and fulfillment.
Done!

You're ready to start earning recurring revenue.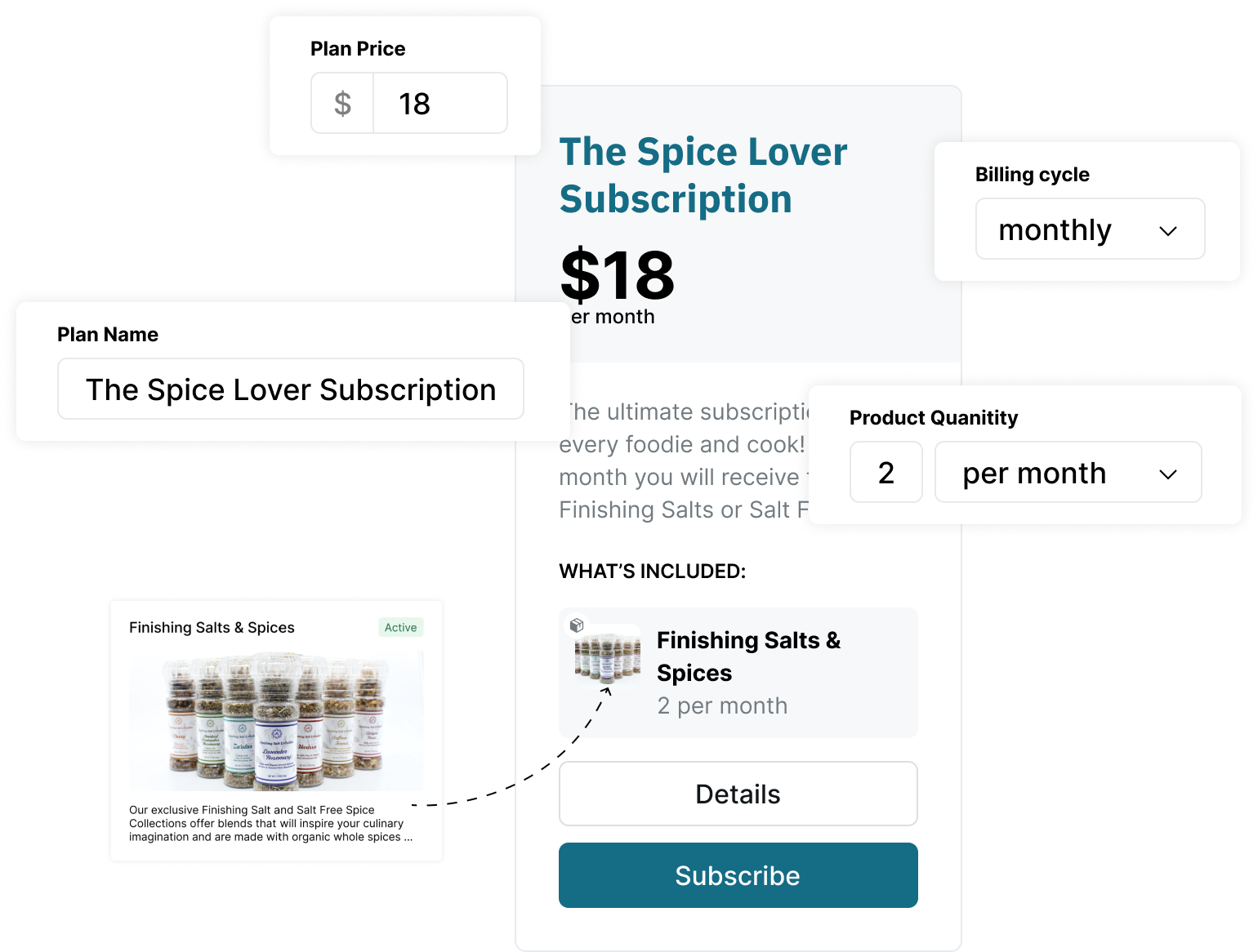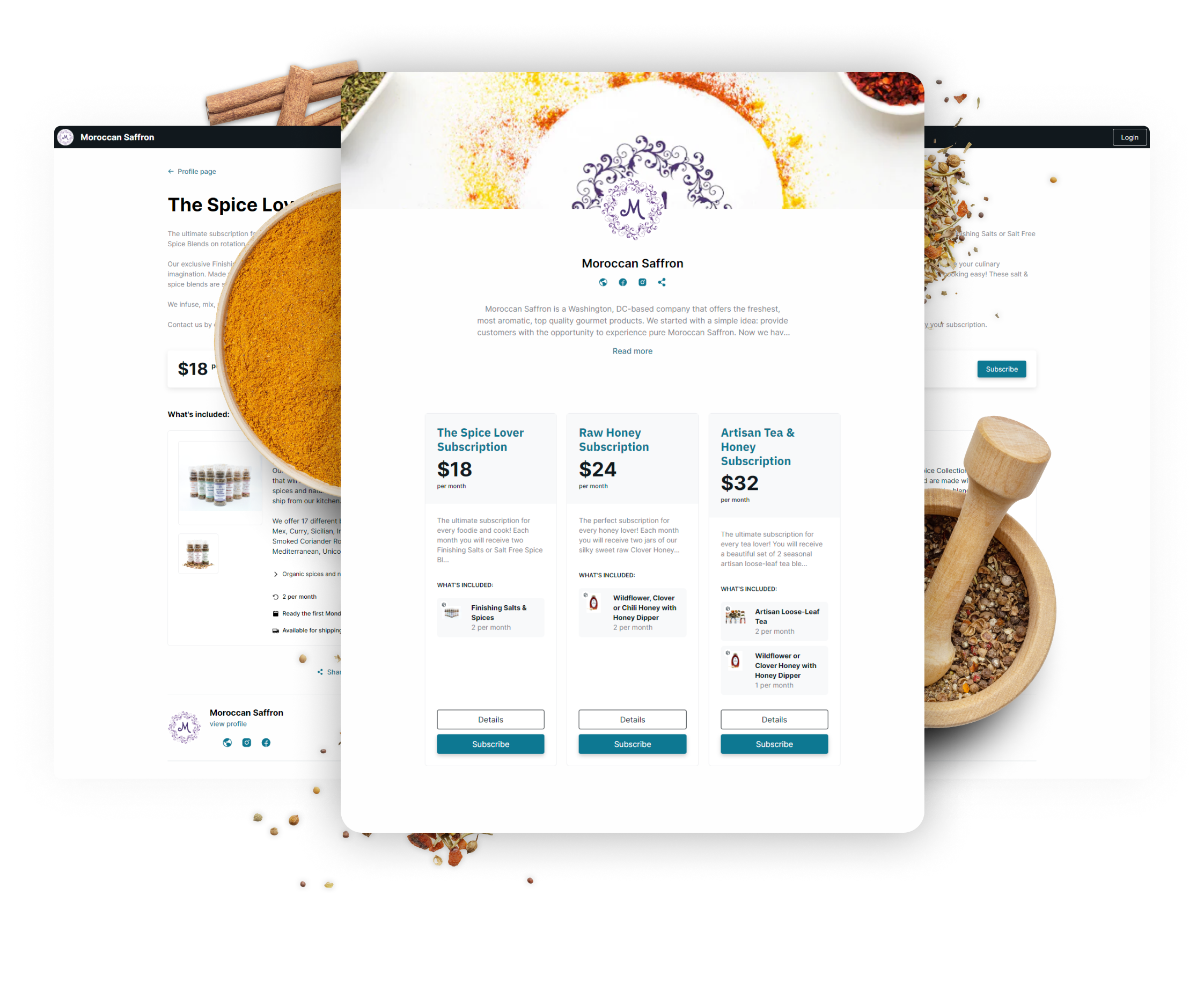 Frequently Asked Questions
How does Subkit help me grow?
1. You'll have higher chances of being found on Google through a hosted, high-SEO business page optimized for paid subscriber conversion.
2.
You'll get new subscribers and share the revenue by collaborating with other businesses using Subkit's one-of-a-kind collaboration feature.
3. You'll turn your audience's friends into paying subscribers through a two-sided referral program.
How much time do I need to dedicate to it?
It's entirely up to you. Some of our top earners on the platform dedicate 2-3 hours a month to their offerings and build sustainable, passive, recurring subscription income.
What kind of offerings are supported?
Physical products you can ship, deliver, or get picked up. Content offerings like paid newsletters, course content, video/audio library, and podcasts. Session offerings like classes, activities, masterminds, mentorship, events, and service-based appointments – online or in person. All can be bundled with each other.
How long does it take to set up?
As little as 10 minutes if you know exactly what you want to do. Some folks need a little brainstorming. We are always available to get on a call with you, share our best practices, and set things up together.
Who owns the data and subscribers?
You own your data, content and your subscribers on Subkit.
Request early access
We're giving a select group of entrepreneurs access to our invite-only platform before opening it up to the public.