One of our loyal readers has submitted a possible alternative to help us get off Rap-based LGD pricing.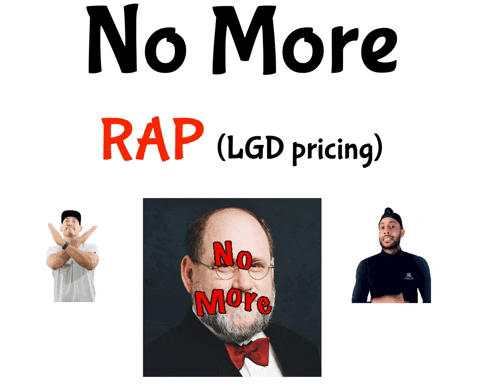 We've heard from several prime growers, jewelry manufacturers and retailers all expressing interest in exploring how they can help transition the lab-grown diamond supply chain off of the Rap-based pricing that currently dominates the market. One loyal reader submitted a possible alternative.
An alternative to Rap-based lab-grown diamond pricing
In an ideal world, each grower and wholesaler of lab-grown diamonds should identify their true cost for their own product and add a healthy margin to it for presentation to their customers. Several prime growers and wholesalers are doing just that.
However, one of our readers suggests that if we really want to eliminate Rap-based LGD pricing, we need to come up with an alternative price measuring report (let's not call it a price list).
So here's a possible platform that could take all human error and prejudice out of lab-grown diamond price measurement
1. We create a password-protected web portal
2. We reduce and simplify the number of pricing categories (because lab-grown diamonds aren't grown in as many colors and clarities as mined diamonds).
3. We segment categories by more specific shapes.
4. Lab-grown diamond prime growers and wholesalers are invited to participate in adding their prices.
5. Each week they are requested to upload their pricing for each category they are selling.
6. All data collection remains anonymous and will only be reported in aggregate form.
7. The portal automatically calculates averages, trends and segments for all pricing submitted on a weekly basis.
8. Once a week an email is sent out to subscribers who wish to review the pricing measurement report.
9. No human interaction is involved.
We love to hear your thoughts on this idea
Too simple?
Ridiculous?
How can it be improved?
Should we forget about it?
Should we move forward?
Thank You
Marty Hurwitz Your Intrepid Reporter
Recent Posts
Diamonds are for Everyone- The India LGD Market Update

THE MVEye Lab-Grown Diamond Market Intel Report interviews Anup Zaveri, partner in Real Illusion, one of the highest quality CV...

January 16, 2023
IGI Details Inclusions Seen in Lab Grown Diamonds

John Pollard, Senior Director of Education for IGI, discusses unique inclusions in both CVD and HPHT grown diamonds. John Polla...

January 16, 2023
Next Stop In The Global Lab-Grown Diamond Expansion

A group of London-based, female-founded jewelers are bringing a new look to this old town... Kimai image As Olivia Pinnock wrot...

January 16, 2023
A Pricing Manifesto- Part Two

We had them running down the corridors from our post last week about the need for lab-grown diamond prime growers to get off Ra...

January 16, 2023
THE Lab-Grown Diamond Pricing Study is Still Live!

Take this quick (7 multiple choice questions) study to help us learn what you think about lab-grown diamond pricing. THE MVEye ...

January 16, 2023