A group of London-based, female-founded jewelers are bringing a new look to this old town...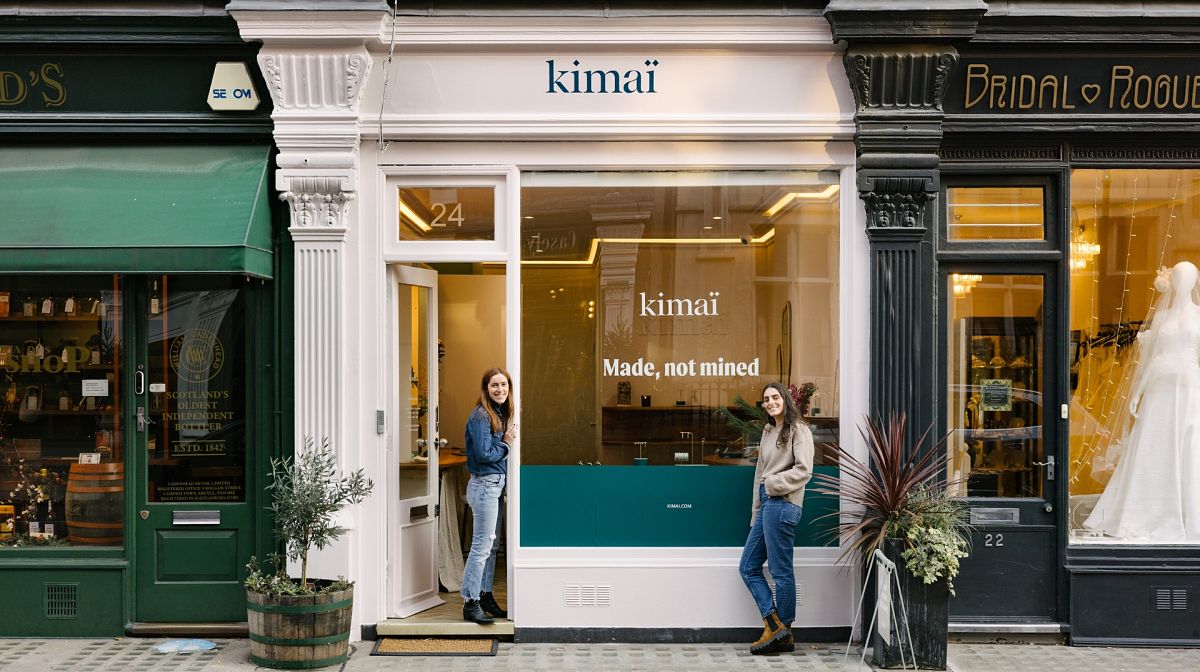 Kimai image
As Olivia Pinnock wrote in early January in euronews.culture, the historic and ultra-traditional city of London is where a unique group of young, female-founded, fine jewelry brands are pushing the global expansion of lab-grown diamonds and consumers are loving them for it.
Olivia writes:
"A little north of Bond Street, in the Fitzrovia and Marylebone neigbourhoods, recent boutique openings, including Matilde Jewellery and Lark & Berry, are appealing to a new demographic of jewellery shoppers with lab-grown diamonds.
The newest opening in the area is Kimaï, who pair lab-grown diamonds with recycled gold. The store sits on Chiltern Street, characterized by upmarket indie stores, the hip Monocle magazine café and celebrity hangout Chiltern Firehouse."
Each of these brands are resonating with younger consumers and all three have genuine sustainability at their core.
Matilde Felix, Founder of Matilde Jewellery
Matilde Jewellery founder Matilde Felix says on their website:
"When I then learned about the traditional jewellery industry's terrible social and environmental effects, it threw the sweet sentimentality I associated with jewellery into such sharp relief. I began to question whether it was possible to craft beautiful, fine jewellery pieces sustainably and free from such negativity. Fine jewellery that could pass from generation to generation proudly, timeless beauty imbued with eternal values. With this in mind, I created MATILDE."
Matilde offers a range of fine fashion collections with a modern style that is at once bold and subtle. The appeal to self-purchasing females is no doubt a strong reason for the brand's ongoing success, but Matilde also offers a men's collection-- a category also being well received by consumers.
Laura Chavez, Founder of Lark & Berry
Lark & Berry, an early pioneer in the retailing of lab-grown diamond jewelry, has a full range of bridal styles and fine fashion jewelry along with bespoke, custom creation for their clientele.
Their brand mission statement puts lab-grown diamonds' sustainability unabashedly out front:
"As a sustainability-driven pioneer since its launch in 2018, Lark & Berry has never used mined diamonds. Instead, it cultures all its gemstones to ensure the earth remains untouched and unharmed. These stones are then set on meticulously crafted gold and platinum."
Jessica Warch, CEO and Co-founder of Kimai
Kimai, a brand enjoying global success and expansion, also focuses on self-purchasing female consumers as a target demographic and presents a complete range of bridal and fine fashion styles with lab-grown diamonds set in 18 karat gold.
"Our mission is to bring ethical and environmental clarity to the fine jewelry industry. By using lab grown diamonds and recycled gold, we have created a transparent supply chain, whilst prioritising quality and design for everyone."
And just at press time we read the news in FashionUnited that:
"Barcelona-based jewellery brand PdPaola is opening its first international store in London in mid-February. The boutique will be located at 18 Floral Street, in Covent Garden, alongside contemporary and high-end fashion brands, including Ganni, Rails, Paul Smith, A.P.C., and Ted Baker."
PdPaola is another lab-grown diamond jewelry brand that also recently began a distribution arrangement with Zales in the USA.
So old world London is looking younger and younger these days. Cheers!
Invite your friends, everybody saves.

For every friend that subscribes using your referral link, you'll get 10% from their payments as credit toward your own subscription. They'll get 10% off too!